Sehr lange ist es her, genau gesagt 13 Jahre, seit eines der besten Action-RPG Spiele auf dem Nintendo 64 erschien und bis heute ein Klassiker ist. Jetzt gibt es das Highlight in einer wunderschönen Neuauflage und dazu noch in 3D für den mobilen Nintendo DS. Doch was macht dieses Spiel so speziell und wie sieht die Version des 3DS aus? Wir haben es für euch getestet.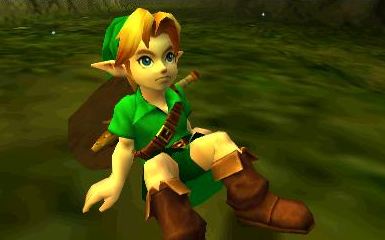 Geschichte:
Ein geheimnisvoller Mann namens Ganondorf scheint Übles im friedlichen Hyrule zu planen, dies behauptet jedenfalls die Prinzessin Zelda. Sie sah die schlimme Zukunft Hyrules in ihren Träumen voraus, auch Link, der Held des Spieles kam in ihren Träumen vor. Link, der in einem friedlichen Dorf aufgewachsen ist, bekommt vom Deku-Baum, der über seine Heimat wacht, den Auftrag der Prinzessin und dem Volk zu helfen. Link macht sich auf den Weg zum Schloss, um die Prinzessin zu treffen und den Auftrag, die Welt zu retten entgegen zu nehmen. Es geht nicht lange und die Vorahnung der Prinzessin werden wahr. Link zieht mit seinem Schwert, einer Steinschleuder, Schild und einer Ocarina den er von der Prinzessin bekam ins Abendteuer, begleitet wird der junge Held von seinem Pferd Epona. Er reist durch Tempel, Wüste und Berge um dem Volk zu helfen, dabei trifft er auf merkwürdige Volksbewohner und Kreaturen.
Grafik:
In Sachen Grafik und Design hat sich viel getan. Ich erinnere mich gut an die teilweise unscharfen und auch kalten Bilder des 90er Spiels, jedoch war das für die damaligen Verhältnisse normal. Das digitalisierte Spiel für den Gamecube/Wii, das 1:1 übernommen wurde, war auch da grafisch keine Augenweide, jedoch war die Grafik wegen des spannenden Gameplays Nebensache, obwohl man tief drinnen eine etwas schönere Darstellung gewünscht hätte, technisch jedoch nicht möglich war. Heute ist das anders!
Für den Nintendo 3Ds wurde alles neu verschönert und das sieht man auch. Die Atmosphäre leidet überhaupt nicht dran, obwohl die Vergleichsbilder deutlich heller und bunter sind. Die Texturen wurden komplett überarbeitet. Die Mimik der Charaktere, besonders von Link erhielt ebenfalls eine deutliche Kur und er hat endlich ein richtiges Gesicht. Wie beschrieben wurde soll Link nun nach Entwicklerangaben um die 500 Emotionszüge haben, ausserdem wurden vielen Gegenden liebevoll ausgeschmückt und verschönert, zum Beispiel der Shop auf dem Marktplatz in Hyrule.
Stellt man den 3D Hebel des Nintendo's hoch, geht die Grafik schön in die Tiefe, das Auge gewöhnt sich schnell an das 3D Design. Wie gewohnt kann man in die Ego-Perspektive ändern, dafür gibt es einen Knopf am linken oberen Rand des Touchscreens. In dieser Perspektive kann man sich frei mit dem Schiebepad umschauen. Was neu ist, ist die Bewegungssteuerungssicht, hier kommt die Gyro-Sensor Steuerung des 3Ds zum Einsatz. Dreht man zum Beispiel den Nintendo nach links, sieht man im Spiel die linke Sicht des Spiels, ohne etwas gedrückt zu haben, dies werde ich unter der Kategorie "Steuerung" besser erklären.
Steuerung:
Viele Erneuerungen gibt es auch in Punkto Steuerung, denn der alte N64-Controller wird nun durch ein mobiles Gerät mit Touchscreen ersetzt.
Der untere Touchscreen ist sehr nützlich. Im Original war der Bildschirm mit Herzteilen, Rubinenanzeige und Buttonbelegungen überladen, beim 3Ds ist alles auf dem Touchscreen platziert, so sieht alles viel übersichtlicher aus.
Die neue Steuerung ist einwenig Gewöhnungssache. Einen Gegner anvisiert wir mit der linken Schultertaste, das ist nicht ganz so einfach wie den Z Knopf des N64-Controllers. Die gewöhnungsbedürftige Bewegung merkt man spätestens, wenn Zielen, Schild halten und laufen gleichzeitig geschehen soll. Es gibt jedoch auch deutliche Vorteile, zum Beispiel wenn man die Lieder der Ocarina spielt. Diesmal sind es die 3Ds Knöpfe mit denen man flötet statt der geleben Richtungstasten des N64, die Liste aller Melodien wird auch angezeigt, im Original war das aufwendiger.
Die automatische Kamera funktioniert einwandfrei, jedoch wäre es manchmal wünschenswert, manuell einzustellen, jedoch kann man in Räumen in die Vogelperspektive umschalten.
Neu ist die Möglichkeit die Sicht durch Neigen der Konsole zu verändern und so auch Schüsse mit Pfeil und Bogen abzufeuern, dies funktioniert sehr gut aber im 3D-Effekt ist es in diesem Fall kaum noch wahrnehmbar, daher sollte man in der Ego-Perspektive den 3D Pegel heruntersetzen.
FAZIT:
Mit verschönernder Grafik und verbesserter Steuerung dank der 3DS Kamera Technologie, kommt das 90er Game auf den neusten Stand ohne vom Original abzuweichen. Spieler, die das Original kannten, werden auf jeden Fall nicht enttäuscht, die liebevolle Gestaltung, der wunderschöne Soundtrack und die motivierenden Aufgaben bringen den Spieler zurück an den Klassiker. Für Neulinge die nur die Nachfolger kennen werden auf jeden Fall von dem positiven Flair begeistert sein, das Alter des Spiels ist zeitlos. Ocarina of Time ist ein Must Have für den die mobile Konsole Nintendo 3DS.
Sonja Eberhard